Our Aussie team recently completed a very difficult rehabilitation of a pipeline corridor in central Queensland. Previous contractor's attempts at erosion control had failed. and The worst section was 120 metres long and the average slope was 30% slope.
The team created a new soil base, built water bars, seeded with grass, covered with Flexterra and irrigated to hasten grass cover. Not only was rehabilitating the narrow, steep site challenging but constructing an effective irrigation system was also a challenge.
The hillslope was irrigated to germinate the grass seedlings. Then very recently it received 75 mm of rainfall – of which 50 mm fell within 12 hours. No erosion occurred.
The soils of Central Queensland are often dispersive and thus easily eroded. So when   pipelines or electrical cables are buried in utility corridors it is important to preserve what little topsoil is available to cover the trenches when finished. Once topsoil is lost we strive to  replace or re-create it.
As the native soils are fragile it is difficult to re-establish vegetative cover which holds the soil in place. This is our speciality, by applying our understanding of soils, plants, irrigation and earthworks our team has been able to rehabilitate some very difficult sites to where vegetative cover is established and the soils do not erode. 
                                         Before                                                                                                                          After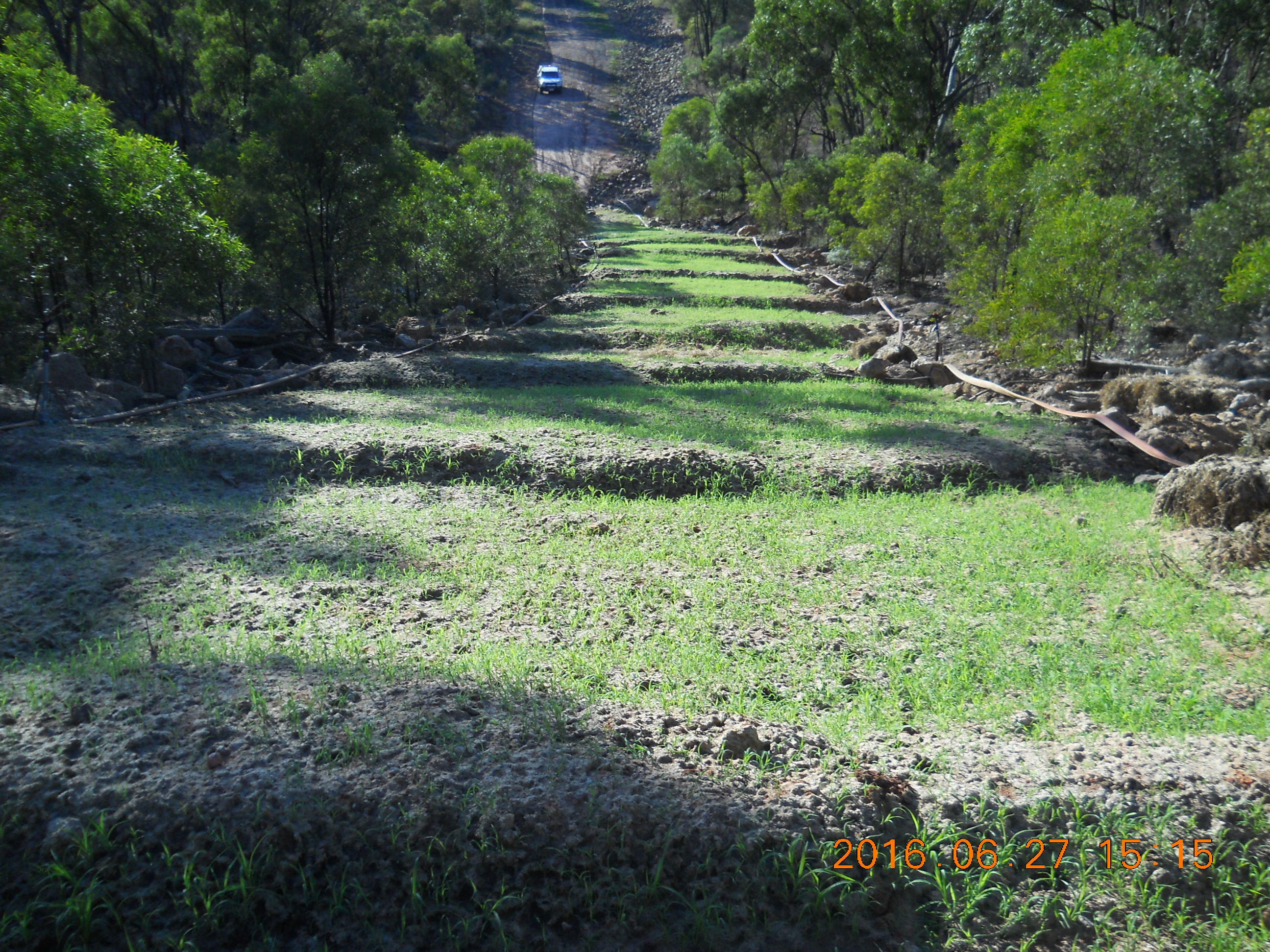 (Photos depict eroded corridor before project commencement (left), rehabilitated section just after Flexterra placement (middle), and emerging grass cover four weeks after seeding (right) 
Our team strives to understand the pre-existing site condition before suggesting or attempting to rehabilitate a disturbed site. We study the surrounding native vegetation, the local geology, landscape position and deep soil horizons.  Contact us for more information on land rehabilitations and erosion control.